My third project uses my embroidery machine. It is a set of designs from Anita Goodesign called Stuffed Acorns. Someone asked me why would I make stuffed acorns. My answer is because I will enjoy looking at them. That is reason enough for me. We need to surround ourselves with things we like to look at and make us smile. Apparently, stuffed acorns make me smile!!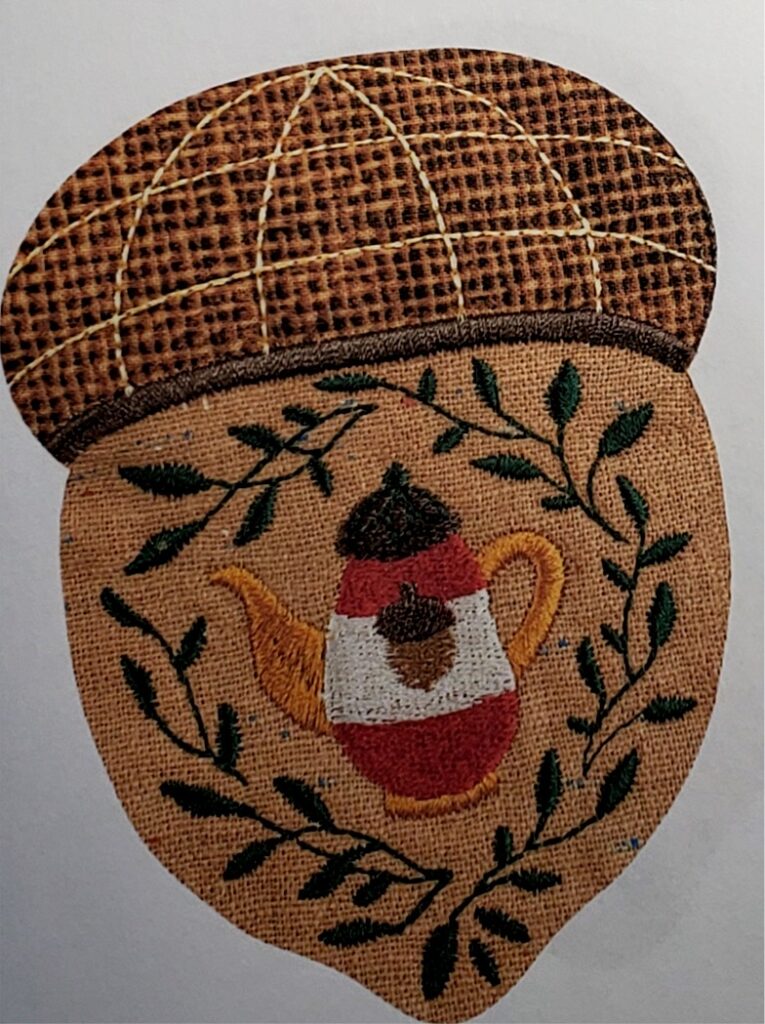 This is an "in the hoop" project which means the acorn will be stitched totally in my embroidery hoop. Not just the embroidery designs but the front and back will be stitched together while in the hoop so when I finish one, I just have to turn it right side out and stitch the turning opening closed. What could be more fun than that!! Oh yeah, I need to stuff it before I close it up!!
Isn't this acorn with the teapot cute? Did you notice there is an acorn on the teapot? These acorns all fit in the 5″ x 7″ hoop. Of course, you could use a larger hoop but the rule is to always try to use the smallest hoop possible.
There are 10 different designs in this set plus one blank acorn for the back. I will get back to the blank acorn in a later post! You can't have an acorn with some squirrels! Check the picture below where the two squirrels are holding an acorn!!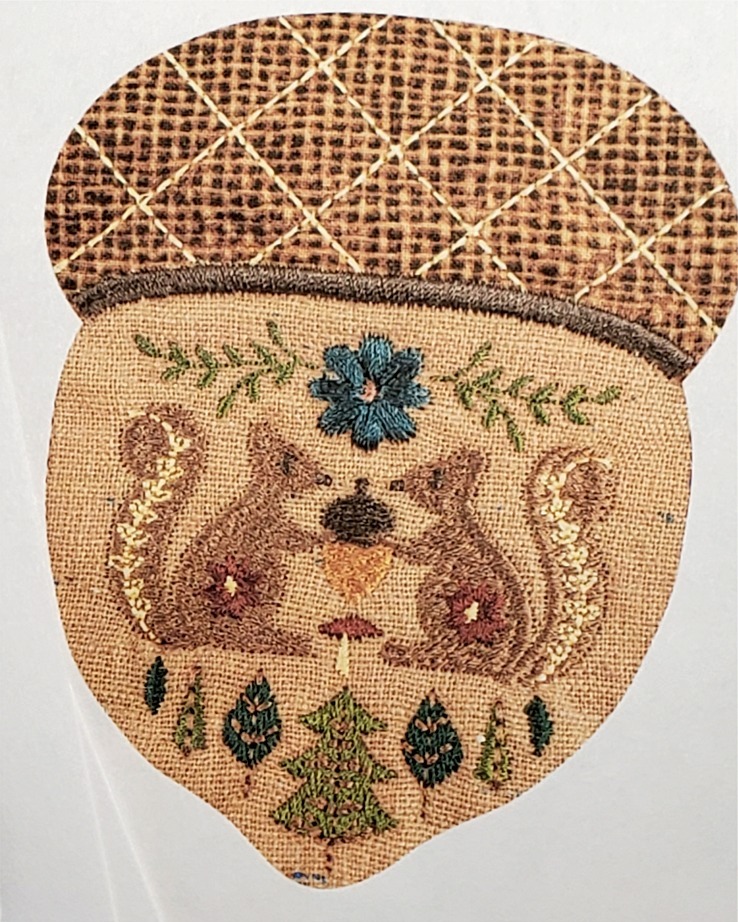 Check the picture on the left where the two squirrels are holding an acorn!!
I categorize this project as a quick project. I base that on a quilt or an embroidery project that has 20 to 40 different blocks is a big project. Another rule or guideline (sounds better than rule) for me is my list cannot contain all big projects. Having said that, if you are a quilter and your projects are all quilts, you might consider breaking your quilt project up into sections and list each section as its own project so you can see and feel the accomplishment as each section gets completed. You could have cutting fabrics as one project. Anyone who has made a quilt knows how much time goes into cutting all the fabric pieces necessary for each block. For me, I try to get all the cutting for all blocks done first. I put the pieces into individual bags for each block. Sometimes it requires making sure to label the pieces and may seem like more work but it is so nice to pull a bag out and just stitch away on a block. Again, this is all up to you how you navigate your quilt. I'm just talking about what I would do to maybe give you a different way of looking at some of those big projects.
So now our list consists of big and small projects!
See you tomorrow!
loreen